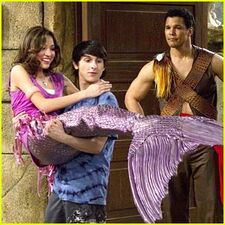 The mermaids are creatures on Kinkow. Their names start with a vowel. They wanted the kings to carry them to The Castle, giving them legs so they could take over. If they touch sea water at any time, they will turn back into mermaids. This cycle can repeat. The Mermaids turned Mikayla  into a mermaid. They have evil magical powers. Amazonia, the blue mermaid fell in love with Lanny.
List of Mermaids
Powers and abilities
"Siren Song" - Gives mermaids the ability to control men.
Mermaids can turn other women into mermaids.
Mermaids have the ability to breath under water.
Mermaids can bewitch people.
Gallery
See Also
Ad blocker interference detected!
Wikia is a free-to-use site that makes money from advertising. We have a modified experience for viewers using ad blockers

Wikia is not accessible if you've made further modifications. Remove the custom ad blocker rule(s) and the page will load as expected.