Return of the Kings
Season 1, Episode 1
Air date
September 10, 2010
Written by
Dan Cross & David Hoge
Directed by
Linda Mendoza
Episode guide
Previous
"-"
Next
"Beach Bully Bingo"
Return of the Kings is the first episode of Season 1.
Summary
Brady and Boomer are twin teens. After being bullied by the toughest guys in the whole school, Mason and a group of warriors from their kingdom in Kinkow come to bring them home. They break the sacred ruby and the volcano on the island erupts. Lanny tricks them into going to get another sacred ruby so they would die in the dark side of Kinkow. While they were in the dark side, Brady and Boomer were caught by the Tarantula People. Luckily, Brady has the chain that controls them. They were able to get the sister ruby, and save the kingdom. However, the chain that controlled dangerous Tarantula men on the dark side of the island falls off Brady's neck. The men find it and use it to awaken a mummy on the dark side.
Plot
Spoilers ahead
Mason and the villagers of Kinkow say that it's time for Brady and Boomer to come home to rule the island.

Brady and Boomer are twin teens at high school. They're in the gym trying to impress three girls by saying that Brady knows what number Boomer is thinking by guessing seven, which was wrong because Boomer was thinking of one hundred and thirty-three. The three girls left unimpressed and Brady gets mad at Boomer, saying that they always use seven.
The class play dodge ball which they hate. In the locker room, the boys try to hurry to get dressed and they try to hide while the bully Rondo starts to bully them. Rondo hangs them on hooks and pants Brady then Boomer because Brady says that Boomer was the one being mouthy. Then Rondo leaves and Brady gets mad that Boomer borrows his clothes. Boomer says that Brady borrows his boxers and Brady replies that his boxers are dirty. Rondo runs back in saying that they better run. The twins think he's messing around with them. Mason and two royal guards come in the locker. The twins are scared, trying to run away but failing because they are on the locker doors. Mason tells the twins that they won't beat them up and says that they're there to bring them home. Brady thinks that the drama kids are messing with them.
Later, Brady and Boomer are having a conversation about them being kings. Boomer is happy that he's going to be a king and rushing while Brady wants to think it through, finding it odd that nobody told them about it. Meanwhile the twins Aunt and Uncle are showing Mason a video of the twins sixth birthday, when Boomer laughed so hard that cake shot out of his nose.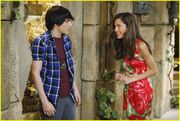 Later, Brady and Boomer arrive on the island, getting there by a hot air balloon. They are attacked by a 60 pound mosquito. Mason attacks the bug and they soon got to  The Castle. The twins soon met Mikayla, Mason's daughter. Mikayla shows them their room which was Lanny's room. Brady almost says that Mikayla is beautiful, but says the pool table is beautiful. Mikayla says that they have to read a book and leaves. Lanny attempts to kill the kings by making a chandelier to fall on the kings. However, it doesn't work.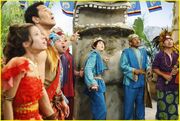 The next day, after the coronation, Boomer drove a jeep into a ruby making everyone panic because a volcano would destroy the island unless they sacrificed one of them or found the sister ruby. The twins try to find the sister ruby by going to the Tarantula People's tribe. They end up being tied to boards with tarantulas crawling on them. When they revealed that they were the kings, the Tarantula People put them in quick sand. Brady controls the tarantula people but using Bat Medallion, which Mikayla previously advised not to take out of the royal vault, due to the fact that it makes you have bad luck. While the kings were in trouble, Lanny claimed himself to be the new king due to the fact he thought Brady and Boomer were already killed. He sends anyone he wants to prison. The twins get the sister ruby and return to the castle to find that Lanny became the king. The kings still don't notice Lanny's true nature.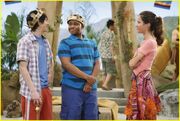 It's later revealed that Brady had lost the medallion on the way back to the castle. That night, Brady and Boomer are playing pool. When Brady shakes his leg a tarantula comes out of his pants. Lanny plans on how to get rid of the kings while Mason and Mikayla are talking outside. Meanwhile, on the dark side, the tarantula people find the bat medallion and use it to awaken the Mummy.
Cast
Quotes
Boomer: Mount Spew stopped grumbling because we have this ruby.
Brady: Yeah, this island is no joke. You know, let's make a pact Boom. We have to read this Great Book when we get back.
Boomer: Deal. If we leave it by the toilet it will be done in a month.
(Brady throw a stone)
Brady: You know we own this island!
(Brady trips and Boomer catches the ruby)
Brady: Dude, nice catch!
Boomer: I believed in myself and just did it.
Brady: You tripped too, Didn't you?
Boomer: Yes. Don't tell Beyonce.
---
Brady: This will go great with my bat pyjamas! ... That I don't have.
Mikayla: NO!
Brady: No, okay, okay, I have them, but I cut the foots off and now they totally rock!
---
Brady: King Conference. So you believe Larry.
Boomer: I think it's Lanny.
Brady: Really? He looks more like a Larry to me.
Lanny: It's Lanny and the volcano's ticking.
Brady: Okay so which option should we go with?
Boomer: What was option one again?
Brady: Death.

Videos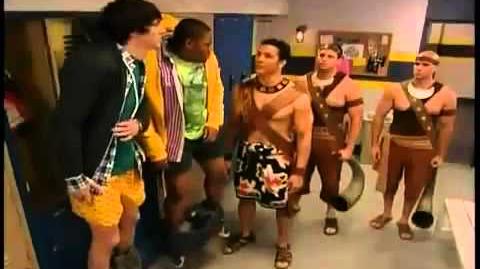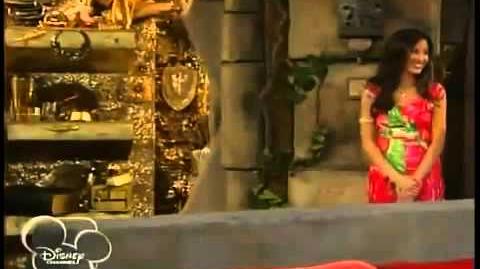 Gallery
Trivia
This episode was first shown on Disney Channel before the actual air date on Disney XD on Saturday September 18, 2010.
It is also the first series on Disney XD to air earlier on Disney Channel.
It marked the biggest audience, to date, for the premiere of an Disney XD Original Series.
See Also
Ad blocker interference detected!
Wikia is a free-to-use site that makes money from advertising. We have a modified experience for viewers using ad blockers

Wikia is not accessible if you've made further modifications. Remove the custom ad blocker rule(s) and the page will load as expected.