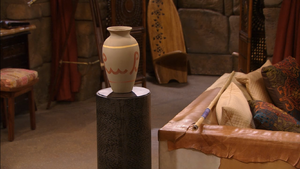 The Vase, also known as Vasey (named by Boomer) is  broken in almost every episode as a running gag. It seems to always be fixed without anyone knowing how, which was pointed out in Make Dirt, Not War. It is known to be Boomer's favorite vase, but it seems that he doesn't always take much care of it. In "Pair of Prom Kings", Boomer mentioned that the vase was a 1000 year old relic and that it's priceless.
List of Breaks
See Also
Ad blocker interference detected!
Wikia is a free-to-use site that makes money from advertising. We have a modified experience for viewers using ad blockers

Wikia is not accessible if you've made further modifications. Remove the custom ad blocker rule(s) and the page will load as expected.